Post by Rick Henry on May 3, 2006 1:18:07 GMT -5



WEDNESDAY SEPTEMBER 12, 1979
First thing in the morning Karen called Frenda to let her know she needed to talk and asked her to come over.

It's now 1:00 p.m. and Frenda has just shown up to Karen's condo. Frenda walked into the living and sat down on the huge pillowy sofa and took a smell of the fresh aroma in the air.

"What a wonderful scent," Frenda says, "What is it?"

"It's a rose, lemon and orange rind potpourri," Karen answers, "A fan named Mary Ann sent it to me through the fan club. Isn't it pleasant?"

"Yes, I love it, Frenda says. "You have the nicest fans."

Karen pours Frenda a cup of hot herbal tea from a floral teapot sitting on the coffee table.

"Well Frenda," Karen hesistantly says, "I really don't know how to say this. But, I've got to start somewhere."

"Okay," Frenda says inquisitively.

"Frenda, oh, I'm in trouble," Karen sighs as tears begin rolling from her eyes.

"What is it Karen?" Frenda asks, "Are you alright?"

"No, I'm not. I mean yes I am," Karen answers. "I'm just confused. I'm afraid."

"What, what is it Karen? Is someone stalking you?" Frenda asks.

"No, no, nothing like that," Karen says hugging a pillow from the sofa. "I'm, uh, I'm, oh Frenda, I'm pregnant."

"Oooh. Oh wow. But, you're not seeing anyone Karen," Frenda says in shock, "Do you know who the dad is?"

"Yes, of course. What do you think I am?" Karen says, "I've been secretly seeing Patrick Benjamin for the past year."

(Patrick Benjamin is a big time producer who has worked primarily with alternative rock artists such as Roxy Music, Talking Heads, Kraftwerk and Frank Zappa.)

"How did you meet Patrick?" Frenda asks curiously.

"I met him at an RIAA banquet earlier last year." Karen explained, "Richard and I were mingling with the crowd when he saw Patrick. Richard wanted to talk with him as he had produced Frank Zappa's most recent album. Well you know how big of a Zappa fan Richard is. Patrick and I spoke a bit that night and we knew there was a chemistry there so we kept in contact."

"But, why did you keep it a secret?" Frenda wanted to know.

"Well, look what happened with Terry Ellis and then David Alley," Karen reminds Frenda.

'Yeah, I guess I don't blame you," Frenda says. "But now you're pregnant. Does Patrick know?"

"No," Karen says, "I haven't spoken with him yet."

"You are going to let him know, aren't you?" Frenda asks.

"Of course," Karen answers giving Frenda a whimsical look. "I plan on telling him."

"You're leaving for New York on Friday, that doesn't leave you much time," Frenda reminds Karen.

"Yes," Karen ponders, "Right now I'm going to concentrate on the benefit concert. I will confront this when I get back home. This will give me sometime to figure out how to go about this."

"I'm here for you Karen," Frenda assures her, "Whatever you need. If you want me to be there when you tell Patrick or your parents I don't mind."

"Thank you Frenda," Karen says sweetly, "You are such a good friend, but I think I need to do this on my own."


FRIDAY SEPTEMBER 14, 1979
This morning Karen boarded American Airlines Flight 203 at 6:07 a.m. destined for New York. She slept most of the way as she only had four hours of sleep the night before. She was too excited about this event and spent a good deal of time packing for the trip.

When Karen arrived in new York she checked into her hotel suite and fell asleep while watching "Three's Company".


SATURDAY SEPTEMBER 15, 1979
Karen met with Jackson Browne and Bonnie Raitt (Bonnie is co-organizing the event with Jackson). James Taylor, Chaka Khan and Bruce Springsteen were also at this meeting. Browne mentioned that the roster would include Carly Simon, Crosby, Stills and Nash, the Doobie Brothers and Ray Parker Jr.

During the meeting Chaka sat next to Karen and kept whispering silly one liners into her ear as Jackson spoke. They hit it off really well. Karen told Chaka that she loved the song "Tell Me Something Good". Karen sang a few notes of the song in a humorous voice while making a funny face. Everybody in the group began laughing at Karen's clowning around.

By the end of the meeting the basics for the concert were laid. Karen was to perform on the last two night of the concert. Jackson specifically mentioned that he wanted to duet with Karen. He said he had written an extra verse to "Making Love In The Afternoon" for a male lead vocal.


SUNDAY APRIL 16, 1979
Rehearsal for the benefit began today. Jackson and Karen spent several hours working on "Making Love In The Afternoon". She was very impressed with his new verse. They sounded great together. Their voices blended perfectly.

Karen did a quick run through of "Guess I Just Lost My Head". She and her band had already been reheasing that one in L.A. so they didn't need much work to perfect it.


MONDAY SEPTEMBER 17, 1979
Rehearsal continued. This time all the performers teamed together to sing a song written for the show "Power". It was quite a bit of work getting everyone synchronized with their seperate parts. They spent over three hours on this song alone.

The rest of the time was spent with various groups rehearsing including Tom Petty and the Heartbreakers and Poco. Karen spent some time walking the arena getting a feel of the grounds. She also worked on her wardrobe for both nights. She wanted a different look - something more casual and down to earth then what she would normally wear for a Carpenters concert. Here's a picture of what she ended up wearing: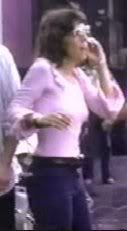 TUESDAY SEPTEMBER 18, 1979
Today the electricians and set builders came in to put the stage together. Karen became fascinated watching them do their work.

This weeks chart positions:

"My Body Keeps Changing My Mind" moves down to #91 in it's 16th week on the charts. This would be it's last week on the chart. It's fared okay reaching #43 for two weeks. It also made #2 for three weeks on the Dance chart and #9 on the Adult Contemporary chart.

"Love Making Love To You" moved up 17 spots from #36 to #19 now in it's third week. The song also entered the Adult Contemporary top 20 at #12.

The big news is that Karen's solo album re-entered the Top 200 album chart at #83. This is considerably higher than it's previous peak at #162 back in July. Karen was ecstatic with both the success of "Love Making Love To You" and especially with the album. Finally her labor of love was on it's way to becoming a legitimate hit. The album now has a total of six weeks on the chart with it's re-entry.


WEDNESDAY SPETEMBER 19, 1979
Tonight was the first night of the "No Nukes" concert. Karen had a front row seat for opening night. She was in awe as she watched James Taylor perform. Later Carly Simon and Graham Nash joined James. Karen was totally into this show and could hardly believe that in a few nights she would be on this very same stage.


SATURDAY SEPTEMBER 22, 1979
It's finally here, Karen's big night. She was nervous, but excited just the same. Jackson Browne sang a few of his lesser known but powerful album tracks. Bonnie Raitt performed a few songs including her remake of the Del Shannon hit "Runaway". This has always been one of Karen's favorite songs.

After Bonnie's performance Jackson came back on stage to introduce Karen. Jackson took the microphone as Karen's band set up behind him, "It is with great pleasure I introduce this next sweet and soulful superstar singer. She has a countless stream of top forty hits as well as platinum certified albums all around the world. Ladies and gentlemen all the way from Century City, California I give to you Miss Karen Carpenter."

Karen walked out on stage wearing her frilly pink blouse with tight blue jeans. She looked great. As she walked on stage the audience hesitated to applaud. It was so qiet you could even hear a few boo's coming from the audience. Karen looked back at Jackson with a saddened look in her eyes. At that point Jackson, Bonnie, and Michael McDonald ran on stage and began hooting and howling and chanting the name "Karen Carpenter" as they applauded her. With this the band began playing the sweet opening lines of "Make Believe It's Your First time". Karen put every ounce of her heart and soul into this song. But, the crowd remained quiet. There was a great guitar solo added for the live performance. Karen's vocal performance was pristine she was absolutley inspiring and angelic. But she was uncertain as the audience sat quietly. But when the song ended they roared with thunderous applause and they gave her a standing ovation. She won the crowd over with her beautiful inpiring soulful voice. Next Karen and her group did a funky guitar heavy pop-dance arrangement of "Boogie Nights". She loved this song and was happy that she was able to convince the group to do it live. She danced across the stage as she sang this upbeat pulsating dance tune. She ended her performance with a slightly upbeat rendition of "Guess I Just Lost My Head". The audience went wild with this last song as Karen playfully sang the lyrics. They gave her, her biggest applause of the night after this song. Karen ended up being a huge success. She was beaming.


SUNDAY SEPTEMBER 23, 1979
This was the final night of the benefit concert. It was also Bruce Springsteen's 30th birthday. There was a huge cake for him backstage which was rolled onstage while Jackson Browne, Bonnie Raitt, Doobie Brothers, David Crosby, Chaka Khan and Karen sang happy birthday to him. Karen even gave Bruce a kiss on the cheek.

Near the end of the concert Karen came out to do her final song, the duet of "Making Love In The Afternoon" with Jackson. The crowd went wild over Jackson and Karen singing together. This ended up being one of the main highlights of the entire five nights. When the song finished the audience gave Karen and Jackson a thunderous standing ovation which must have lasted about five minutes. Karen was in all her glory as she bowed and thanked the audience for their kindness.


TUESDAY SEPTEMBER 25, 1979
Now back at home Karen knows she must face the music concerning her pregnancy. She decided she would speak with Patrick first. she called him and made a lunch date for Wednesday. After that she would talk with mom and dad and finally Herb and Jerry. She knew this would not be easy but was necessary. Abortion is not an option for Karen. She has always wanted to have children and will go forward with this knowing that she can handle this and that she will love her child with all her heart.

This week's chart:
"Love Making Love To You" enters the top ten at #7 in it's fourth week on the chart. This is up 12 spots from last week. The song also moves up to #9 on the Adult Contemporary chart.

Karen's album moves up a whopping 41 spots to #42 from last week's #83 in it's seventh week on the chart.

In the midst of this big resurgence of popularity "The Singles 1969-1973" re-entered the album chart at #184.

Karen also received the news that A&M will license several songs from Karen's solo album to be used in the next Warren Beatty film a romantic comedy which will co-star Meryl Streep. Karen flipped with excitement when she received this great news.